One of the many things that separates us as humans from the rest of the animal kingdom is without a doubt our ability to express ourselves artistically. Whether it's created through painting, writing, dance, theater, or photography, art is about not only recording the human experience for posterity, but elevating it to new levels. The work of today's and yesterday's famous landscape photographers captures the profound beauty of Mother Nature and her connection to humanity in a way that is both commemorative and creative.
Born in San Francisco, Ansel Adams was one of the most famous American landscape photographers of his day. He was also an active environmentalist that adored nature and did his best to preserve its humbling, timeless beauty.
His breathtaking black-and-white photographs capture the spirit of the American West in a way few other artists have been able to duplicate, although many have tried. He is especially well known for his shots of majestic Yosemite National Park.
Adams's best and most renowned work is still widely featured on a variety of different products. These include but are not limited to calendars, posters, and postcards. His shots are also favorite additions to photography books and compilations around the world. His major accomplishments include:
Development of the Zone System, a method that helps determine ideal exposure and contrast in regards to a final print.

Founding the photography group known as Group f/64 with Edward Weston and Willard Van Dyke.

Founding (in tandem with others) the magazine Aperture.

"Monolith, the Face of Half Dome", one of his most famous images.
His stunning close-ups of leaves as seen in Glacier National Park.

"Church", a shot of Taos Pueblo.

His shot "The Tetons and the Snake River".

"Clearing Winter Storm", one of his famous Yosemite shots.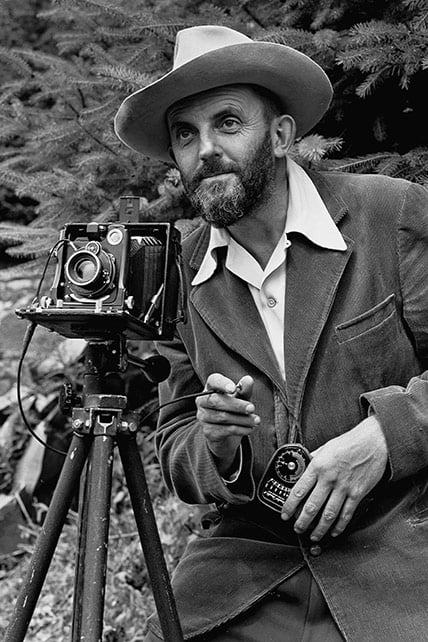 Born in Oakland, California, Galen Avery Rowell is one of America's most celebrated and famous landscape photographers. He was an avid rock climber, as well as a wilderness enthusiast. He began climbing mountains at the tender age of 10.
Rowell came by his love of photography via a desire to record his experiences and share them with family and friends. He was never formally trained in photography, but his shots nevertheless go down in history as some of the finest nature images ever created. His most famous accomplishments include: