One of the many things that separates us as humans from the rest of the animal kingdom is without a doubt our ability to express ourselves artistically. Whether it's created through painting, writing, dance, theater, or photography, art is about not only recording the human experience for posterity, but elevating it to new levels. The work of today's and yesterday's famous landscape photographers captures the profound beauty of Mother Nature and her connection to humanity in a way that is both commemorative and creative.
Born in San Francisco, Ansel Adams was one of the most famous American landscape photographers of his day. He was also an active environmentalist that adored nature and did his best to preserve its humbling, timeless beauty.
His breathtaking black-and-white photographs capture the spirit of the American West in a way few other artists have been able to duplicate, although many have tried. He is especially well known for his shots of majestic Yosemite National Park.
Adams's best and most renowned work is still widely featured on a variety of different products. These include but are not limited to calendars, posters, and postcards. His shots are also favorite additions to photography books and compilations around the world. His major accomplishments include:
Development of the Zone System, a method that helps determine ideal exposure and contrast in regards to a final print.

Founding the photography group known as Group f/64 with Edward Weston and Willard Van Dyke.

Founding (in tandem with others) the magazine Aperture.

"Monolith, the Face of Half Dome", one of his most famous images.
His stunning close-ups of leaves as seen in Glacier National Park.

"Church", a shot of Taos Pueblo.

His shot "The Tetons and the Snake River".

"Clearing Winter Storm", one of his famous Yosemite shots.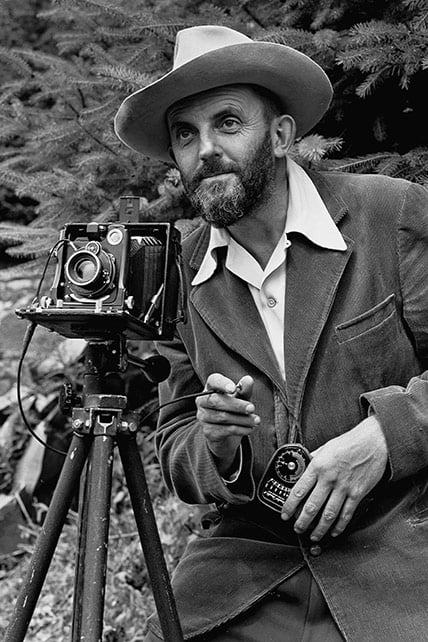 Born in Oakland, California, Galen Avery Rowell is one of America's most celebrated and famous landscape photographers. He was an avid rock climber, as well as a wilderness enthusiast. He began climbing mountains at the tender age of 10.
Rowell came by his love of photography via a desire to record his experiences and share them with family and friends. He was never formally trained in photography, but his shots nevertheless go down in history as some of the finest nature images ever created. His most famous accomplishments include:
Celebrated shots for multiple periodicals, including National Geographic, Life, and Outdoor Photographer.

Successfully completing more than 100 first ascents of technical climbs throughout the Sierra Nevada.

Multiple respected writings on the subject of photography.
Born in Illinois's Cook County, Eliot Porter discovered his love for photography at a very early age. He is best known for his breathtaking photographs of the Great Spruce Head Island, property owned and maintained by his family.
Porter was also an accomplished intellectual, possessing degrees in both medicine and chemical engineering. Porter has a number of non-photography achievements to his credit as well, including a career as a biochemical researcher at Harvard University.
Porter traveled extensively in the interests of his beautiful color nature photographs. He specialized in places that were known for being culturally significant, important from an ecological standpoint, or both. Captured locations include the Galapagos Islands, East Africa, Ireland, Baja California, and Maine. Noteworthy achievements include:
Cultural studies that covered areas such as Mexico, Egypt, and China.

His celebrated book The Place No One Knew, a work that recorded the majestic Glen Canyon before the building of the Glen Powell reservoir.

A collaboration project with James Gleick that paired Porter's impressive photography with a powerful essay on chaos in nature by Gleick.

Bequeathing his entire personal archive to the Amon Carter Museum in Fort Worth, Texas upon his death.

Being elected a Fellow of the American Academy of Arts and Sciences in 1971.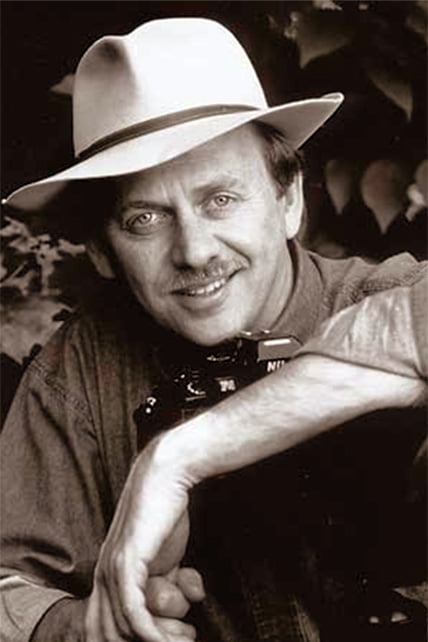 Jim Brandenburg 1945 – Present
Jim Brandenburg is one of many famous landscape photographers that nurtured a deep love and respect for the environment. He is a celebrated nature photographer, environmental activist, and filmmaker. He is currently based in Ely, Minnesota and is a Fellow of the International League of Conservation Photographers.
Brandenburg's impressive career covers a lot of very admirable ground. He spent a decade working as an accomplished newspaper photojournalist, as well as 30+ years as a photographer for the National Geographic Society. He has also completed multiple commissions for such entities as the BBC and the United States Postal Service. Noteworthy accomplishments include:
A personal project that limited him to taking a single photo per day between the fall equinox and the winter solstice. The resulting shots are featured in his book Chased by the Light.

Receiving the title of Wildlife Photographer of the Year in 1998 from BBC Wildlife.

Creating the non-profit organization known as Concerts for the Environment
Being awarded with an honorary Doctor of Humane Letters degree by the University of Minnesota.

Being named one of Outdoor Photography Magazine's 40 Most Influential Nature Photographers.

His famous shot of a leaping Arctic wolf being named one of the 100 most important photos in Canadian history.
His many photographic collections including Minnesota – Images of Home, Face to Face with Wolves, and Sand and Fog – Adventures in Southern Africa

Various shots for National Geographic, including those featured in the stories Viking Trail East, Boundary Waters, and North to the Pole.

The creation of a celebrated set of wildlife stamps for the U.S. Post Office in 1981.
Destin Sparks 1986 – Present
While Destin Sparks may not yet be as accomplished as the famous landscape photographers above, he is well on his way to becoming an accomplished photographer in his own right. He already has multiple awards to his credit, as well as a successful business and brand built around his passion for nature and for photography.
Sparks's style seeks to capture the beauty of his native Australia in a way that is both powerful, contemplative, and evocative. He is self-taught in the art of photography and is known within the industry for stopping at nothing to achieve the perfect shot. Sparks also enjoys hang gliding, snowboarding, hiking, and graphic design. His notable accomplishments include:
Scoring over 75 international awards for his trailblazing photography work.

Places in some of the world's most prestigious photography collections