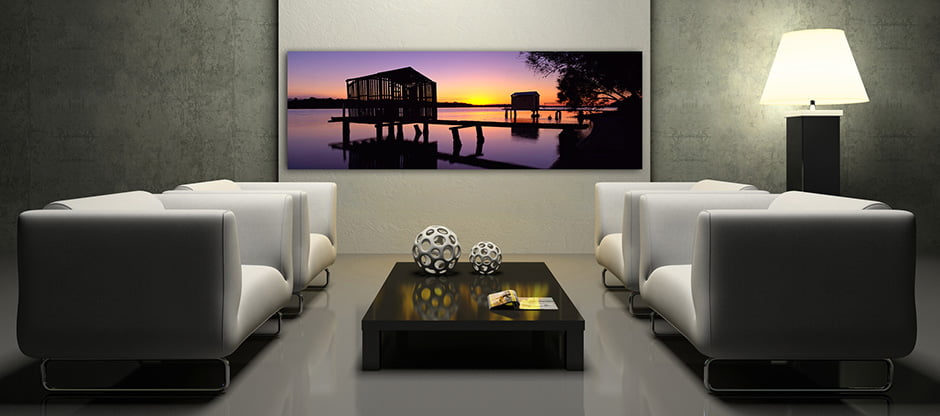 Wall Art is an affordable and stunning way to decorate your home, office or community building, injecting the places we live, work and meet with new personality and changing their emotional atmosphere.
Why buy Wall Art for your home or office?
Each piece of landscape Wall Art has its own story and is inherently attached to the place, scenery or cityscape it depicts. Perhaps you've visited a place and want to remember it forever, or hope to someday visit a location and see it in person. Either way, Wall Art is a fantastic way to bring the freedom and space of travel, discovery and the natural world into your life and keep it close to your heart.
Wall Art allows you to choose pieces that are co-ordinated with your existing décor.

Wall art can instantly transform the feel of a room, bringing the natural world in and creating a more organic atmosphere.

Being so affordable, Wall Art can easily be changed to reflect your mood
Fine art doesn't have to cost a fortune either – Wall Art is one great example of this – after all, not everyone can afford original artworks for the walls of their homes or offices. Wall Art represents an accessible way for you to enjoy beautiful fine artwork, irrespective of budget.
Long hallways, tall foyers or lobbies make a great space to create your own personal Art Gallery. Be your own curator and hang a collection of similarly themed or coloured pieces of Wall Art anywhere you have large, blanks spaces, to give an impressive 'Art Gallery' feel.

One oversize piece of Wall Art acts as a focal point for any room, be it a lounge, bedroom or boardroom and makes a really impressive statement. Not only will it make the room seem larger, it also creates a great mood depending on the subject matter you choose.